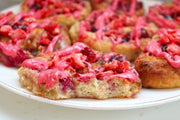 High Protein Bakery Style Berry Danishes
May 10, 2023
Whether you are celebrating yourself, your mum, mother figure or loved one this Mother's Day, @betterbeingsteph has made a treat that you can spoil them with that's made with only love and all the good stuff - thanks to our Vanilla Pancake Batter THRIVE Plant Protein!
Here's what you'll need:
Base
180g self-raising flour or GF flour of choice
60g NH Vanilla Pancake Batter THRIVE Plant Protein
240g vanilla Greek yoghurt or non-dairy yoghurt of choice
1 tsp instant yeast or vinegar
Filling
100g strawberry or raspberry jam 
80g fresh raspberries
Optional: white chocolate flakes
Icing
80g melted white chocolate
1-2 drops red food dye or beetroot powder 
HERE'S HOW TO MAKE IT:
Preheat oven to 180°C fan forced.
To a large mixing bowl, add all ingredients for the dough, and stir well to combine.
Using your hands, begin to mould the mixture into a dough.
Roll dough flat with a rolling pin until it's roughly 1cm thick.
Spread and sprinkle ingredients of the filling on top
Pinch the edge of the dough closest to you and begin rolling into a log.
Place log in the fridge for at least 30 minutes to chill and get firm.
Cut the log into 6-8 scrolls and place on a lined baking tray to bake in the oven for 15-20 minutes.
Allow to cool before drizzling with icing and serving!
Serves: 6-8
A classic, rich vanilla flavour that the whole gang will love. Our THRIVE Vanilla Pancake Batter Plant Protein is the perfect flavour addition to baked goods, raw treats, smoothie bowls and everything in between. 
THRIVE Plant Protein is vegan, all-natural, gluten-free and contains no hidden nasties or artificial ingredients. To make things even better, we've formulated our protein supplement with added superfoods, minerals and functional ingredients to promote a thriving, healthy body from the inside out!