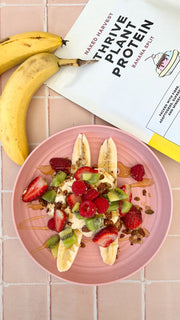 Healthy Banana Split | GF, DF, RSF
May 22, 2023
Indulge guilt-free with our nutritious & easy-to-make Banana Split recipe - perfect for a post-workout snack, a vegan breakfast option, or healthy sweet treat! This recipe is protein, vegan, dairy free, refined sugar free, gluten free & packed with protein. The star ingredient? Our signature
Banana Split THRIVE Plant Protein!
🍌  A plant-based protein powder that tastes exactly like your favourite dessert. Enjoy it in recipes, in a smoothie, or with water. Keep on reading to discover the full recipe. 

HERE'S WHAT YOU'LL NEED
1 ripe banana

1/2 cup Greek yoghurt (can sub for VE/DF option
1 serving Naked Harvest Banana Split THRIVE Plant Protein
1/4 cup granola of choice
Drizzle of honey (or Peanut Butter for VE option)
Fruit toppings of choice (we used strawberries, raspberries & kiwifruit)
HERE'S HOW TO MAKE IT
Cut your ripe banana in half down the middle (long ways)

Mix Greek yoghurt with protein & pour over banana
Add the rest of your toppings over banana
Eat & enjoy!
Our a-peeling Banana Split THRIVE Plant Protein is every bit as sweet as your mind imagines. Lick your lips and get ready for seconds, this is the flavour your smoothies have been waiting for! THRIVE Plant Protein is vegan, all-natural, gluten-free and contains no hidden nasties or artificial ingredients. To make things even better, we've formulated our protein supplement with added superfoods, minerals and functional ingredients to promote a thriving, healthy body from the inside out!