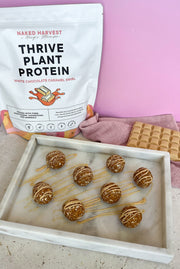 Caramilk Protein Balls Recipe
Mar 30, 2023
Calling all white chocolate lovers! Indulge in our no-bake Caramilk Protein Balls made with our delicious White Chocolate Caramel Swirl Plant-Based Protein Powder. Packed with vegan protein and high-fibre ingredients, these protein-packed treats are quick and easy to make, perfect for satisfying sweet cravings on-the-go. Enjoy a delicious and nutritious snack that fuels your body with wholesome ingredients!
Serves: 8
Prep time: 5 minutes
Set time: 2 hours
Here's what you'll need:
1 serve NH White Choc Caramel Swirl Plant Protein
1 ¼ cup rolled oats
4 Medjool dates
1 ½ Tbsp almond butter
2 tab almond milk
2-3 rows of Cadbury Caramilk chocolate, melted
Pinch of salt
Here's how to make it:
Soak dates in 1-2 Tbsp of boiling water for 5 minutes.
Place all of the ingredients in a high-speed blender or food processor and process until the mixture is combined.
Roll mixture into 8 balls. Place on a tray and set in the fridge for 1 hour.
Once set, dip each ball into the chocolate to coat.
Return the balls to the refrigerator for a further 1 hour to set before serving.
Store in an airtight container in the refrigerator for up to 7 days.
Our 
limited edition
NH x GS THRIVE White Chocolate Caramel Swirl Plant Protein
is the perfect flavour addition to baked goods, raw treats, smoothie bowls and everything in between. A delicious
flavour that tastes exactly like your favourite golden white chocolate you know and love! THRIVE has no hidden nasties or artificial ingredients and contains added superfoods, minerals and functional ingredients to promote a thriving, healthy body from the inside out.