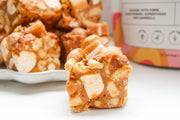 Protein-Packed Caramilk Easter Rocky Road
Apr 06, 2023
Looking for a healthier Easter treat that tastes just like Caramilk? Try out our Easter themed Rocky Road Slice! Featuring our limited edition NH x GS White Choc Caramel Swirl THRIVE Plant Protein, this mouth-watering treat is the perfect way to satisfy your sweet tooth without compromising your health goals. With its chunky rocky road texture and creamy caramel swirl, this recipe is sure to impress your friends and family. Let's dive into the recipe by @betterbeingsteph and discover how to make this irresistible treat in no time! 
Here's what you'll need:
250g melted Caramilk chocolate
170g yoghurt of choice
Inclusions of choice (biscuits, marshmallows, nuts, etc.)
Here's how to make it:
Pour into a lined tin & freeze until set
Cut into large or small pieces
Enjoy! 
THRIVE Plant Protein is vegan, all-natural, gluten-free and contains no hidden nasties or artificial ingredients. To make things even better, we've formulated our protein supplement with added superfoods, minerals and functional ingredients to promote a thriving, healthy body from the inside out!