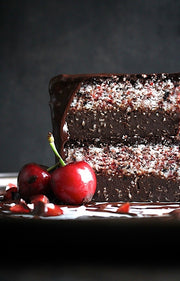 Black Forest Bounty Bars
Dec 17, 2020
Christmas dessert is sorted! The perfect blend of chocolate, cherries and coconut that's a great, healthy alternative to the original. Created by the lovely @emsswanston, these Black Forest Bounty Bars feature our Chocolate Swirl THRIVE plant protein and Collagen Beauty Elixir Powder for optimal hair, skin nails & gut health.
Makes 5 chunky bars or 10 bites
Here's what you'll need:
Base
1/4 C almond butter
1/4 C desiccated coconut
2 Tbsp cacao
2 Tbsp maple syrup
2 Tbsp melted coconut oil
1 tsp instant coffee - regular oir decaf
1 tsp vanilla
Pch salt
1 scoop of NH pure collagen powder - opt but great for hair, skin, nails & gut health
 Cherry coconut filling
1 1/2 C desiccated coconut
3 Tbsp dried cherries (or cranberries)
1 Tbsp coconut oil
 Choc Topping
1/3 C dark choc
1/2 tsp instant coffee - regular or decaf
1 tsp coconut oil - opt
Here's how to make it:
Mix base.
Press to a lined loaf pan.
Blend coconut, cherries & coconut oil til the cherries break down & it "sticks".
Press on to base.
Chill/freeze for 5-10.
Drizzle w/ melted choc mix!
Slice (I find it easiest to slice if you turn it upside down so the choc is on the cutting board).
Devour.
THRIVE is packed FULL of nutrients, vitamins and minerals & functional ingredients to promote a thriving body. We have formulated the perfect plant-based protein (pea and rice) with Magnesium, Organic Maca, Siberian Ginseng, Digestive Enzymes, Psyllium Husk and more to provide you with increased energy, mental performance, immune protection and extra tummy love.
Shop our THRIVE range today!