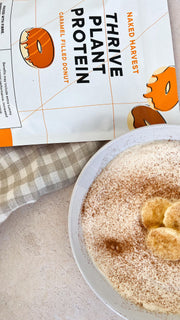 Banana Cinnamon Overnight Oats | VE, DF, RSF
May 26, 2023
Try out our vegan, dairy-free & refined sugar-free & nutritionist approved Banana Cinnamon Overnight Oats recipe! Using only 6 ingredients, this easy-to-make recipe is the perfect healthy breakfast idea, post workout snack, or healthy sweet treat. Harness the functional power of our Caramel Filled Donut THRIVE Plant Protein that's vegan, dairy-free, gluten-free, and has no added nasties! Discover the full recipe below.
HERE'S WHAT YOU'LL NEED:
1/2 banana

1/3 cup of oats
A pinch of cinnamon
1 tsp maple syrup
1/3 cup plant based milk
1/2 cup coconut yoghurt
HERE'S HOW TO MAKE IT:
Mix 1/2 banana, oats, milk, cinnamon & maple syrup until combined

Microwave for 1 min & 30 sec

Mix protein powder & yoghurt and spread over the oat layer

Leave in the fridge for minimum 4 hours of overnight

Top with sliced banana, some cinnamon & enjoy!
This flavour takes our obsession with caramel to a whole new level. Our Caramel Filled Donut THRIVE Plant Protein is here to satisfy those rich, smooth caramel cravings, with an added touch of cinnamon for a donut-like twist. Our THRIVE Plant Protein is vegan, all natural, gluten-free & free from refined sugars. To make things even better, we've formulated our protein supplement with added superfoods, minerals and functional ingredients to promote a thriving, healthy body from the inside out.